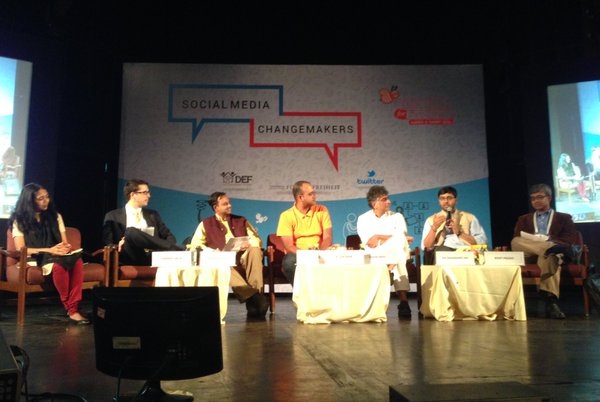 Moderated by Research Director of Your Story Media Madan Mohan Rao, an interactive session was hosted with some young entrepreneurs sharing their success stories.
The speakers for the session were Founder of 'Chai with Lakshmi' Lakshmi Rebecca, Founder of Youth ki Awaaz Anshul Tiwari, Founder of Bitgiving Ishita Anand and Communications Manager at Video Volunteers Kayonaaz Kalyanwala.
The session was part of a day-long schedule — which included panel discussion on various topics related to the use of social media —of Social Media for Empowerment Awards & Summit 2016, organised by Digital Empowerment Foundation in partnership with the Friedrich Naumann Foundation.
In the last two decades, the world of communication has changed considerably. Internet access was first introduced in India for commercial use in 1995. It was the same year that mobiles phones were launched but their pace of growth was very slow. But look now! Be it technology or the design, the industry is changing at a blink away speed. 
The session on success stories began with Rao asking the successful entrepreneurs, "What does it take to become a social entrepreneur?"
Rebecca started as video blogger who was interested in talking to entrepreneurs and sharing the same on social media. She wanted to make top quality videos, and eventually those videos became the content for a high-quality talk show with considerable amount of viewership. Though Rebecca started shooting with sophisticated DSLR, she now shoots, edits and uploads all the videos from her Samsung S6. "Being on a mobile platform, gives me a lot of freedom and flexibility," she said.
Another successful entrepreneur and Founder of Youth Ki Awaaz Tiwari started the platform for eight years ago when social media meant Orkut, "and people were loving it". Tiwari launched Youth Ki Awaaz because for India's youth, there were very few people who had access to platforms where they could to speak their mind and share their opinions.
The USP of Youth Ki Awaaz has been that, unlike mainstream media, has been that it's willing to publish any story, and depends heavily on crowdsourcing. The platform is more about breaking the traditional mould of the gatekeeping process behind selecting stories for publication.
"Social media can be used for social change, and it is being used for this purpose today. One example of this the rap video that went viral, forcing Unilever to reconsider dumping waste in Kodaikanal," Tiwari shared.
For every entrepreneur, his or her project is special. But Bitgiving is more special for Anand because the idea to launch this crowdsourcing platform started out of her need to raise money for her idea, which is probably why the platform deals with every project through a personalised approach. 
"The strength of social media was witnessed when thousands of people got together and saved Friendocoes from shutting down in Delhi," she said. 
Storyteller and researcher Kalyanwala's Video Volunteer addresses the need of the massive digital divide that's present in India. Most people in rural and marginalised communities can neither create their own content nor do they have access to available content. "So we teach our volunteers to makes video and use them as a tool for advocacy. We believe every single video is an agent of change. We use these videos for campaigning at the local, state and national level," she said.
Video Volunteers has 170 video volunteer, 52% of whom are women, across 16 states of India. Over the years, Video Volunteers has become the largest online archive of videos from rural India. Every video that is shot, goes live on the website and its YouTube channel. The platform also frequently collaborates with mainstream media like CNN IBN, Huffington Post and Youth Ki Awaaz to get these stories to a wider audience, not just geographically but also in terms of diversity.
Questions from audience stressed upon one major point: how does an entrepreneur bounce back after a failure. 
"Failure is a taboo in our country, starting from failing at a subject in school. We need to allow our kids to experiment a lot in school. And the community of entrepreneurs needs to work with the same perspective," said Anshul.
He said that entrepreneurs need to learn the art of letting go. "You can't hold your idea so close to your heart that you start obsessing over it, giving others little chance to contribute to its growth. The biggest way to learn is through experimentation and failures. But, also, don't can't waste time over what you've not excelled on, you have to move on as well, and quickly," Anshul added.
Anand seconded Anshul and said, "Even though you're trying to build something that you're very passionate about, you have to get fellow entrepreneurs to help you, mentor you." 
"And perseverance is the biggest thing that entrepreneurship teaches you," said Rebecca.