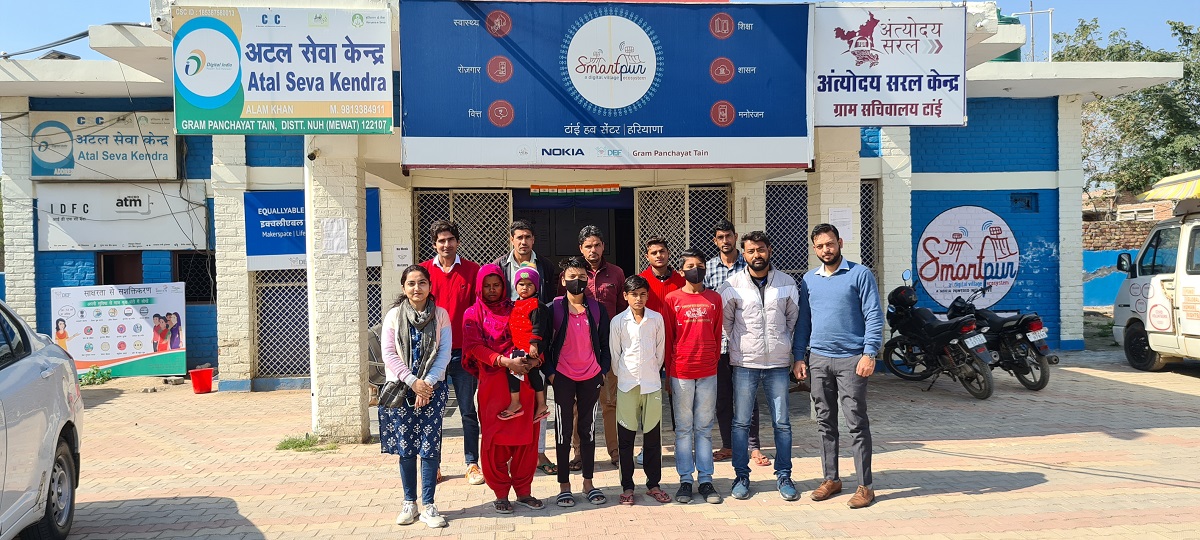 On 11th Feb, 2022 I got an opportunity to visit the Smartpur centre in Nuh. The primary vision of the program is to empower marginalised communities in information dark regions to access, consume and produce information online using digital interventions and ICT tools.
The district has lush green fields on both sides and as I crossed them I felt excited to see what awaits me at the centre in the village of Tain. I along with my co-worker were welcomed by Mr. Samar Khan, the district coordinator. He gave us a brief introduction about DEF's activities in the district and then he showed us the classrooms where digital literacy classes were being conducted by Mr. Deepak, the computer trainer. We were greeted warmly by the staff and students, and interacted with the beneficiaries who were involved in their projects. All of them were working on unique projects and were happy to interact with us. They shared their journeys in Smartpur and about how they learnt to use digital tools in their daily lives. Many of them shared that they wanted to become entrepreneurs and work for the community. They were inspired by the work of the Smartpur entrepreneurs who were working for their communities while also earning a decent income for themselves. The students showed us a scale model of the Tain centre that they had made in their STE(A)M classes. 
We also had the opportunity to interact with Mustakim, one of the Smartpur entrepreneurs who has been successfully providing digital services to his community while also earning an income for himself. He said "the equipment provided to me under this program was extremely helpful; I was able to generate enough revenue to earn income for myself and it also enabled me to serve the community."
This was one of my first visits to the field and it was an extremely enriching experience as I saw DEF's work across the pillars of education, governance, finance, health, livelihood creation and entrepreneurship.