"People humiliate me, they shut their doors at my face but that doesn't stop me from doing my service" – Ramadevi
Early that morning around 8 am we started from Pondicherry to visit our RCCE (Risk Communication Community Engagement) volunteers in Chennai. As we didn't know the exact location, Sindhu DEF's local coordinator helped us reach there. We met Ramadevi as she mobilized people to come; she made some calls and told them "yes yes the meeting is now, please come." She was confident, energetic and knew exactly what she was doing. We observed as she conducted a community meeting with some people from the locality. Most of them were elderly, and they maintained distance, wore masks and at Ramadevi's request also sanitised their hands. She started explaining the dos and don'ts of COVID spread, the importance of taking vaccines, and what sort of food to take to improve immunity.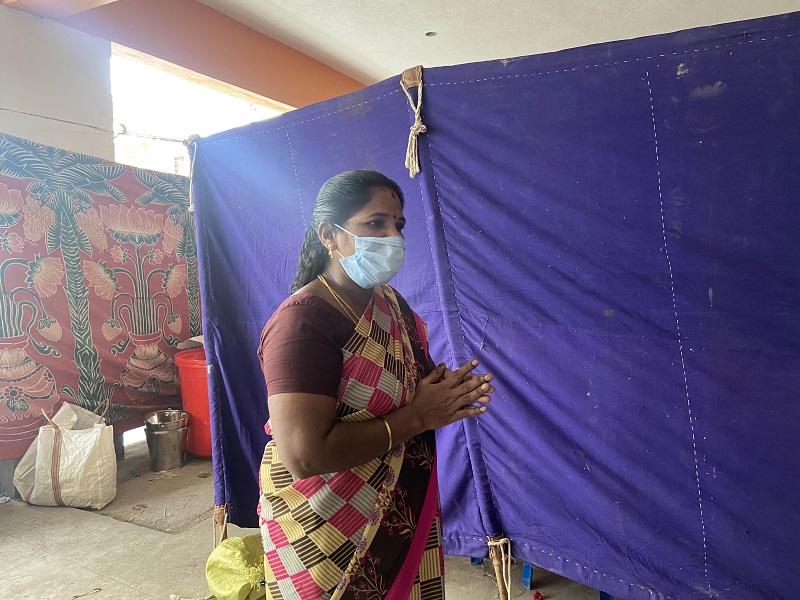 I spoke to a few members in the community meeting and asked them if they were vaccinated and what sort of COVID protocol they usually followed. Most of them said "we wear masks, we have taken the vaccine and basically we just follow what Ramadevi asks us to do because we know she has knowledge about all this." Then she took us to show some wall paintings she had done to spread COVID awareness, so we walked a few blocks not far from where the meeting was held.
The wall painting was done on a temple's campus wall. She drew a pregnant woman wearing a mask and on the side there was writing in tamil saying, "கொரோனா தடுப்பூசி செலுத்திய பிறகு கற்பமாக உள்ள பெண்கள் செய்ய வேண்டியவை கட்டாயமாக இரண்டு முகாகவசம் அணிய வேண்டும்" which means after taking the the COVID vaccine pregnant women should wear double masks. On the same wall she showed us another painting that she did, written "To save ourselves from the Omicron variant, wear masks and sanitize your hands regularly and eat healthy food" with pictures of a sanitizer bottle, masks, and vegetables. 
She invited us to her house that was just a few steps away from the wall painting. We went there and sat with her. We were very excited to know about the work that she was doing so we asked her many questions. Here are our questions and her responses: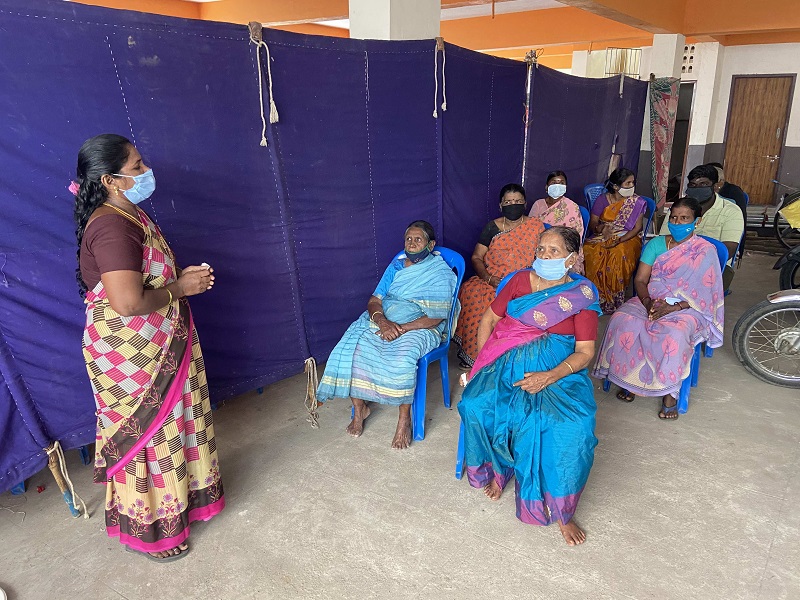 What were you doing before joining the RCCE program?
Before joining the RCCE program I worked in the corporation (a government body) spreading awareness about COVID. When this pandemic started people were scared of doing this work but I went out there risking myself for the welfare of people door to door explaining to them about the do's and don'ts and the importance of being vaccinated. I tell them even if you feel any symptoms such as body pain, fever, cold let me know and I will get you tested so that the rest of the family is not affected. 
After joining RCCE did you receive any training from DEF?
As I am already familiar with this work in a corporation. In RCCE we do five types of activities: door to door visits, wall paintings, community meetings, announcements and youth meetings. We start by wishing and we tell them that we are running a campaign called RCCE spreading awareness against COVID. I ask them how many members are in their family and their age, and also ask them if they are vaccinated. If yes then how many doses did they get and what type of vaccine whether it was Covaxin or Covishield. I ask them to wear masks and wash hands when they come back from work and not to touch the child as they are vulnerable to the virus. I note all this down so when I come for another visit here I check if everything is ok or if someone needs help.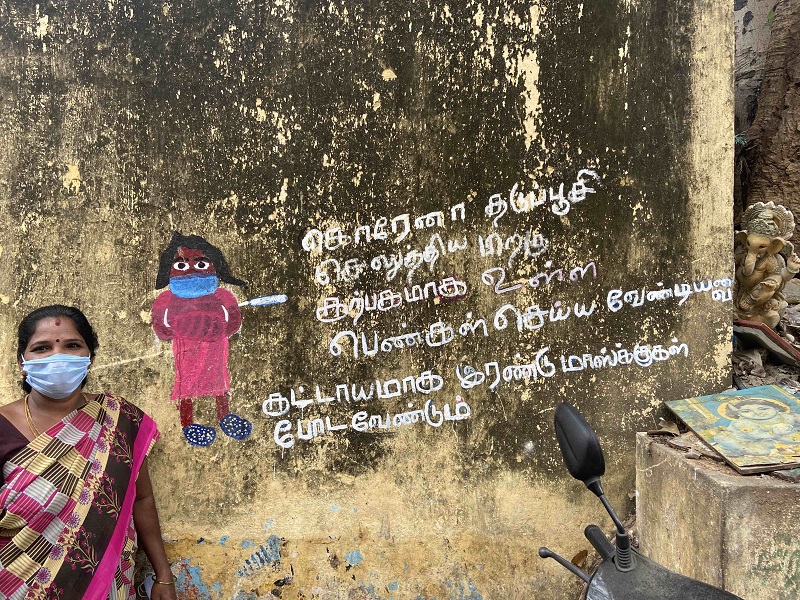 Working as a COVID warrior how many times have you been infected and how often do you test yourself?
I've been doing this for the past 2 years, so far I haven't tested positive even once. We have a protocol to get tested every fifteen days as we are exposed outside conducting community meetings, youth meetings and door to door visits. Every time we deal with a person who recovers from COVID or tests positive for COVID, we take a test right after that. I am also fully vaccinated. I don't want to put my family at risk so I get tested regularly. 
What are the challenges you face in this field? 
The challenges I face while going door to door are when people humiliate me, they shut their doors at my face but that doesn't stop me from doing my service there is this one incident that I still remember; I went to this door and pressed the doorbell and waited for someone to answer and someone shut the door as quickly as they opened it, I pressed the bell again and then there came a man murmuring 'huhh you people again?!' He even used bad words. I don't want to say that here, (as she said this I saw her eyes flooding with tears. Somehow she managed to swallow her tears and she continued) I am here to spread awareness about COVID, if you could just listen to us for a moment and then you can shut the door but don't judge without hearing what I have to say. We asked the usual questions like how many members are there in the family and how many are vaccinated. We then came to know that one elderly man (60 years old)  was not vaccinated and asked why; they replied 'she is old and is scared of taking the vaccine.' I told them that people who are old have a weak immune system. I spoke to her personally explaining that it is just an immune booster that keeps you safe from the spreading virus. When the man saw that the elderly lady was convinced he called me in, and said 'I understand your work and I was amazed to see my mother agree.' The man who didn't want to listen and didn't want to let me in called me in to say this. So we do this work handling all the humiliation. Even small children at the age of 17 humiliate. But not everyone is like this, most people are nicer. It is challenging but I'm not stopping.
When you are doing this wall painting do you do it on a private wall, public wall and will people say you can't paint here?
When I paint on walls I ask permission and unfortunately most people don't agree, but here I asked the temple's priest whether it's ok if I paint on the campus wall for raising awareness against COVID-19 and he said "surely! If it's for such a good cause there is no reason for me to refuse."
How many members are there in the youth groups?
In each youth meeting there are about 10 youths to whom we explain and they carry the information to the people they meet on a day to day basis.
You started this in September. How many people do you think you reached out too?
For the door to door I would have reached out to 200, an estimated count and as I said earlier youth meetings would cover a lot of people as they go outside and meet more people. And for the community meetings we call 10 people from an area and next time we will call another ten from a different area, all together I would have covered about 1000 people as I've been doing this for the last 6 months.
Are you doing announcements? If so, how ?
Yes we use auto rickshaws for announcements. We record the things that have to be announced and the auto goes covering different areas of main roads, and streets. Sometimes we do announcements with microphones. 
What changes do you see from the people after all this awareness ?
I've seen quite a few changes. Before they were not serious about it, but now after all the awareness they've been given people started wearing masks, sanitizing and even taking the vaccine. 
What are the other problems you see when you go door to door?
When a person is sick they need to be isolated and when I am on door-to-door duty I come across a few people who don't have anyone to take care of them. So I ask them if they need something like food or medicine. I buy them with my own money. I never ask them, just yesterday I bought tablets for a person who is isolated and I go and check on them everyday.
Yuvasree is a graphic and information designer with Digital Empowerment Foundation based out of Pondicherry.