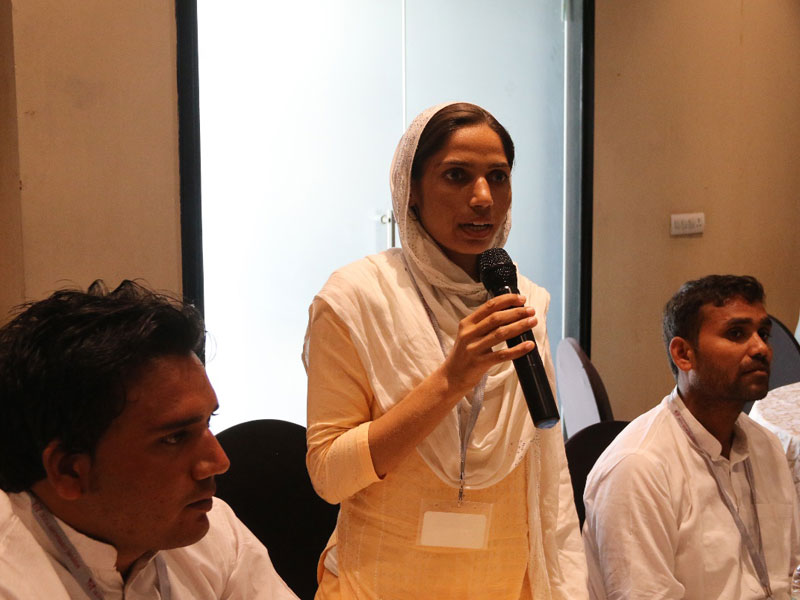 The Covid-19 pandemic has forced everything to go online and this has restricted the movement of people in the workplace and offline workshops and training have been put to a halt. The Smartpur team has not been able to meet physically since December 2019, when their last refresher training was conducted in Jaipur. The offline workshops and training sessions help the team to connect and grow, which is very limited in the online sessions. 
The Smartpur team had their three-day workshop from 23rd to 25th June 2022 in Bilaspur, Haryana. The team members were delighted to attend the three days power packed workshop. The Smartpur team from all the locations arrived in New Delhi on 22nd June and left for the training by 23rd June morning. The venue for the workshop was Park Inn by Radisson, Bilaspur.
On the first day a session was held by Ms. Sujata Chhabra on time management and happiness. This interactive session helped the teams from all the nine districts get familiar and comfortable with each other. They also energised and motivated the team as Ms. Chhabra spoke about the ways time can be better managed. 
Day two started with individual presentations from each of the nine districts. The project officers, centre coordinators and field coordinators of all the locations had prepared a presentation on the progress of the project and its impact in their respective districts. This session helped the presenters become more confident about their work and their presentation skills and at the same time it helped the participants understand how different methods can be used to bring about impact at the ground level. 
Mr. Gulrez from KPMG held the next session in which he asked for inputs from the field team about the project and the ways it can be improved. This interactive session helped the team open up about the challenges they face and the unique ways they combat those challenges. 
A session was also organised on how to make and present case stories in which Mr. Ravi Guria explained the importance of being good at communicating ideas and thoughts. Mr. Guria went on to train the team in Canva to enable them to better communicate the impact stories they witnessed on the ground.