It is not uncommon to associate big cities with the ideas of ever increasing employment opportunities and a sense of freedom that the young seek and a notion of security and comfort sought by the old. One such city, Chennai, welcomes you with its busy commercial streets, high raised buildings, restaurants to cater to every kind of taste palate and crowded roads decked with so many street lights that one could easily conclude that the city never sleeps.
Traveling around the city, if one ends up on the small streets of Ayapakkam, they are in for a surprise as they see a small community of 40 people have been living on a public piece of land for half a century. Contrary to the stereotypical urban lifestyle, these people (about four to five families) have been dwelling in tents, no electricity and limited water and other resources. Their only source of income has been through dressing the cows and themselves, traveling door to door, 'blessing' the people and receiving donations which ranges between Rs.150-300 per day per family. This community is locally termed "Gypsies".
Decorated cow ready to be taken around to bless the people
While the rest of the city keeps growing at such a fast pace, the immediate question that crosses the mind is, "Why have they been living this way for decades and continue to do so?" One of the daughters of a family, Chitra, voiced her thoughts about their lifestyle. She mentioned that the older men (uneducated) are not keen to learn skills that might help them find alternate work opportunities and they failed to sustain small businesses like selling balloons as they never have enough money to manage it.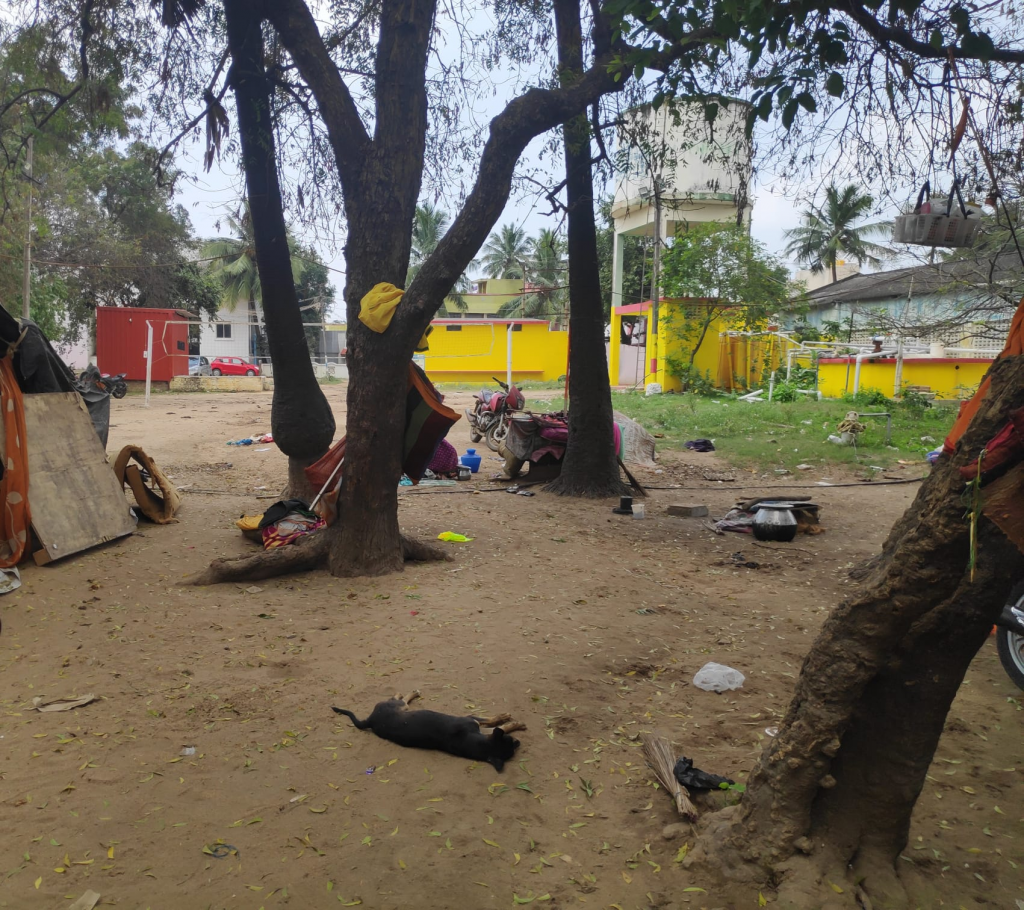 Location of their abode
In the community comprising old men and women, working parents and young children, hardly two of them have Aadhar cards to even avail benefits through government entitlements. The children from the next generation like Chitra, currently studying in a nearby government high school, have been struggling to keep up with their education as the pandemic cut them off from any kind of school engagement. In a place where children find it hard to study once it gets dark as there is no source of light apart from a small bulb burning in one of the street corners, it is hard to imagine them accessing online learning. Although her mother has been encouraging her to pursue her studies, and like any other youth enchanted with the IT based lifestyle that a city offers, she dreams about identifying herself as a software engineer someday and changing her lifestyle. But unfortunately, when asked about the resources that she has access to which might help her to carve her own path, she shares that her community is usually cut off from the rest of the world and her life revolves around her school and her people. Even at her school, apart from classes, she doesn't get to spend much time with her peers to get better exposure as she doesn't seem confident to interact or enough money to hang out with the rest.
Lifestyle in one of the tents in the community
Bridging the gap in the perspectives of the old, who are reluctant to change and sometimes seen whiling away their time and money on alcohol and gambling, and the young who carry a glimmer of hope to improve their living with dearth of resources and information might seem challenging. Although some volunteers like Arun from DEF (Digital Empowerment Foundation) have been helping them during the pandemic to create awareness and personally help them out by providing food at times, or some other community workers who are often seen distributing packed food to children who are seen chewing plastic many a times, a sustainable approach to facilitate their growth is yet to be anticipated.
In this regard, DEF has taken up the initiative to connect the community digitally by providing digital devices which would enable the children to access online education and the adults to upskill by exploring training modules, hoping to witness growth with the help of this intervention.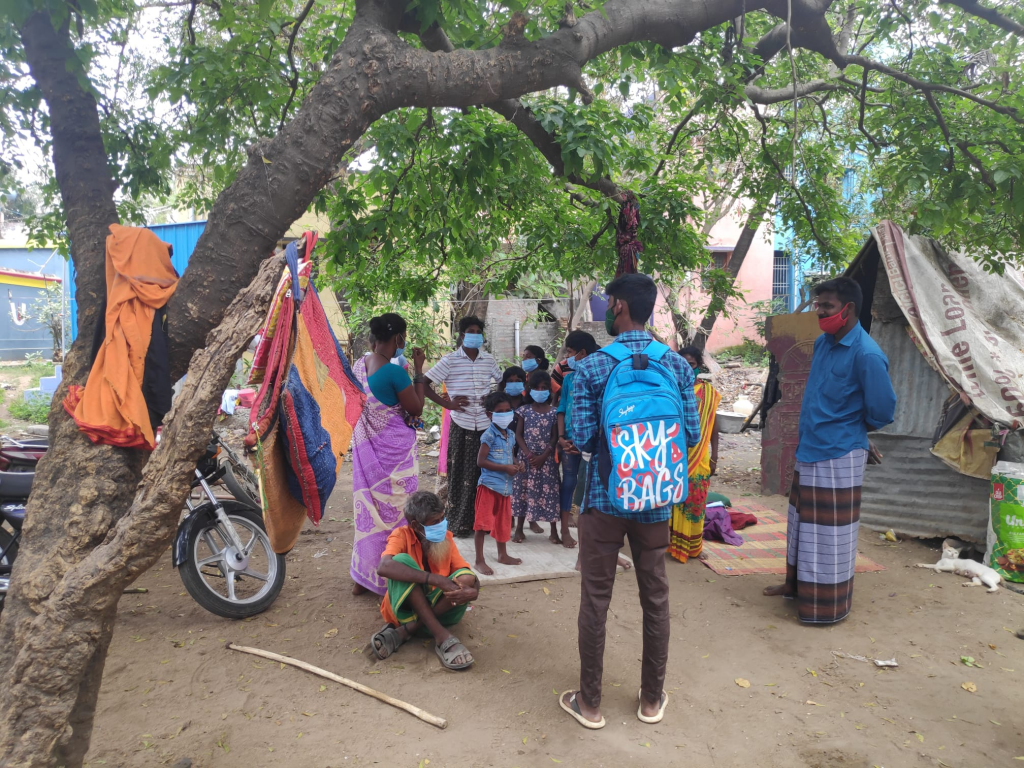 Arun, DEF volunteer, creating awareness about Covid19
Read the follow-up story to see how DEF is planning to work with this community and empower them.