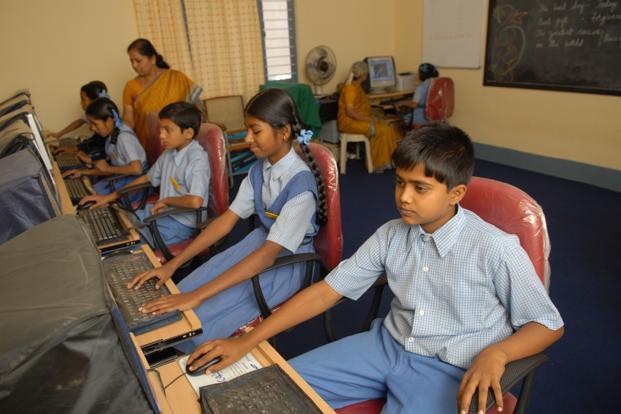 This article was first published by Mint on April 20, 2018.
Today, India can boast of having enrolled more children than ever before in secondary schools. However, it is failing to teach them what they should be learning.
In a country where more than 50% of the population is below the age of 25, the Annual Survey of Education Reports (Aser) of 2016 and 2017 shows that students throughout their school years in rural India are failing to retain skills learnt in lower classes.
While conventional literacy rates have risen over the years and reached 74.04%, lower enrolment of girls, high rates of drop out, low retention of knowledge and poor attendance of teachers are still some problems that the education sector faces in India.
Access to information and communication technology (ICT) in the early years of a child's education can tackle these problems. ICT not only enables them to access information online but also brings socio-economic and cultural benefits, thereby potentially enabling them to break from the cycle of poverty that their families have been trapped in.
It would be wrong, however, to say that efforts of introducing ICT in education have not been made. Computer Literacy and Studies in Schools (CLASS) was an initiative of the government in mid-1980s. In 1992, the Programme of Action (POA) on the National Policy on Education (NPE) stressed the need to improve access to computers in schools. In recent years, smart classes have been set up in some urban private schools, well-equipped with digital tools and learning content.
There have also been concentrated efforts made by various state governments to increase penetration of digital tools among the youth—for example, the Uttar Pradesh government's initiative of distributing laptops to students of Class X and XII. But without functional internet connection, a laptop serves limited functions today—students lose interest in the device and fail to see the potential it holds.
While the medium is changing, education as a sector is not being challenged to leverage ICT tools and technologies per se. Over the years, efforts in ICT for education have been more in the sphere of learning than in education as a whole. The focus has been on providing infrastructure and not on optimum utilization of the resources. Yet, computer labs are still a luxury in thousands of private and public schools, especially in rural areas.
Even in schools where computer labs are available, often, they lie unused for days, months and even years sometimes. The reasons could be one or more of the following: erratic or no power supply; the absence of a computer teacher; computer teachers lacking skills or knowledge; and an outdated curriculum. Even the fact that "computers" is a dedicated period on a class' weekly timetable is a problem, I think. In this digital era, when children are digital natives and not digital migrants, a weekly lesson on computers isn't enough. It's time computers were taken out of computer labs and fixed in every classroom and administrative role.
Let's be clear that introducing technology alone will not change the teaching and learning process.
Neither will the process of simply replacing the paper with a digital screen. What is required is holistic integration of ICT into education. We must understand that unless our schools become smart, our country will not be able to create smart citizens.
When I talk about introducing ICT in early years of education, what I truly mean is integrating it into the following: learning processes to make it more engaging and interactive; content and allowing students to become producers of this content; teaching processes and opening a treasure trove of highly interactive digital resources; school management system to monitor teachers' attendance, infrastructure and even mid-day meals; the evaluation process to ensure schools meet RTE compliances; and into parent-teacher involvement to allow community members to share feedback in real time.
However, quality infrastructure is the backbone required to facilitate this, and to truly allow institutions to leverage ICT in education. The government must, on a priority basis, take effective measures to ensure all government schools have functional digital devices; contemporary curriculum to deliver computer literacy classes; qualified members of staff to train students; and a mechanism that incorporates digital tools in everyday teaching and learning.