The lockdown led to a halt in the main source of livelihood for many families in villages, making survival tough.
Laxmi undertaking digital training at DEF's Digital Resource Centre
The Covid-19 crisis is expected to have a lasting economic effect on many low-income communities across the country, especially in rural India. The lockdown led to a halt in the main source of livelihood for many families in villages, making survival tough. Most people struggled to find an alternate source of income and lack of training or knowledge became a big hindrance.
DEF's digital resource center in Thikkavanipalem village in Andhra Pradesh's Visakhapatanam district stood up to the dire situation and under the initiative's livelihood pillar conducted digital trainings and workshops for the local population which helped them earn a decent living amid the pandemic.
Tirupathi, our digital foot soldier in started to map the area to help train local women in mask making so as to enable them with skill and resources. He then met D. Laxmi, a 45-year old tailor and sole earner in a family of four. Our center coordinators found that like many others, she had no food in the house to feed her family. She belonged to the fishermen community and prohibition on going out into the sea had left her husband without any scope to earn a living.
Acting on the importance of Digital Intervention, connectivity and entrepreneurship opportunities, Thikkavanipalem's digital foot soldier Satya Rao started training local women on how to stitch masks with minimum resources. The team was initially provided with cotton, string and other materials required, thereby helping reduce their expense and offering motivation to lean.
Laxmi was quick to learn how to make a mask. The training was crucial as it helped generate and alternate livelihood opportunity for her. It was also the start of her journey to transform from a simple tailor into a digital entrepreneur.
Post the digital trainings and encouragement from center coordinators, Laxmi stitched and sold more than 250 masks just in the month of May. She has continued with this and is able to earn a decent income of Rs 2000 by selling one lot to chemists, local shops and organizations.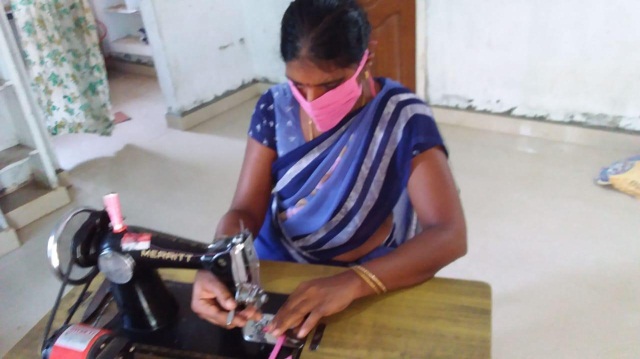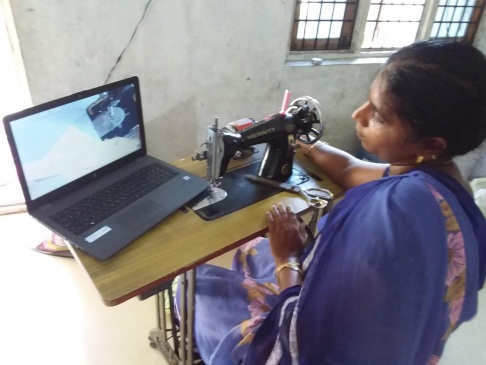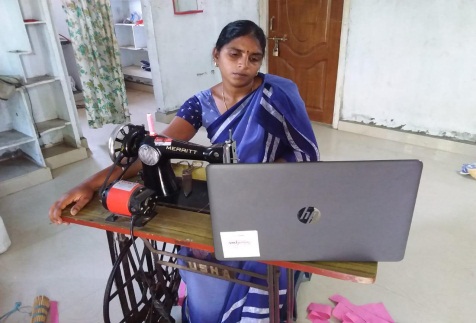 D.Laxmi learning how to make a mask
She is now one of the many women in her area to find an alternate source of income and sustain her family amid the Covid crisis. Interestingly the trainings not only helped Laxmi and her peers, but also made an important resource like masks widely availability for local authorities for its free distribution and providing it to shops to sell at nominal rates.
Laxmi and other local women have contributed significantly for the betterment of the society and had a huge role to play in the fight against Covid-19.
One of the first to receive the training and act upon it, Laxmi is considered a Warrior in her village. While many people were unable to help each other during the lockdown, she refused to give up and widened her skill through digital intervention to make life a little easy for the society and her family.