Journalist and filmmaker from Brazil, Alexandre Amaral, travelled across the rural area of Nuh to understand how Digital Empowerment Foundation's (DEF) MakerSpace STEAM kit is promoting creative thinking and problem solving skills in students. This is part of his ongoing travel log.
By Digital Empowerment Foundation
Activities being undertaken with the MakerSpace STEAM kit.
"Come and sit!" That was the invitation Sharafat Ali made me, when I asked him what he had been learning in the past couple of weeks. The boy, who couldn't have been older than twelve, kindly showed me a place to sit in his friends circle, while grabbing a couple of batteries and wires in his hands.
"His name is Nasim, Rihaan, Raashid, Rizwan, Sehwag, Saabit," he says, introducing me to his colleagues. All of them were sitting just outside the Smartpur center in Nuh, on top of a colorful cloth extended over the grass. They were having a practical class on how to build a fire-alarm from simple components. A pleasant spring afternoon.
The project at hand, developed by the Digital Empowerment Foundation, was called MakerSpace, or MAKE2. MakerSpace is a kit for school going children that imparts skills in STEAM (science, technology, engineering, arts & mathematics). Judging by Sharafat's reaction, it is also a lot of fun!
Students at their afternoon lesson on critical thinking
"My village's name is Tain"
Located a few kilometers outside the center of Nuh, the MakerSpace classes were taking place in the Tain village. The region is home to traditional Muslim farming communities, who have been marginalised over the years in terms of job opportunities and access to health care and education.
It's no wonder that once I arrived, I got some suspicious looks from villagers and passers by… but that wouldn't take long to change.
Streets of the Tain village, in the outskirts of Nuh.
Sharafat Ali was the first of the children to break the ice. In a matter of minutes, he was already showing me his digital prowess typing rapidly and searching online at the Smartpur center. That was enough to gain the attention of the other youngsters, who joined us sharing laughs and handshakes.
Hands on! Creating a fire alarm
The MakerSpace trainer in Tain, Aizaz Ahmed, soon gathered all the students to start the day's class. He explained to me that the STEAM kit is aimed at broadening experiential learning and promoting creative thinking. By following eight simple steps, the training focuses towards problem solving.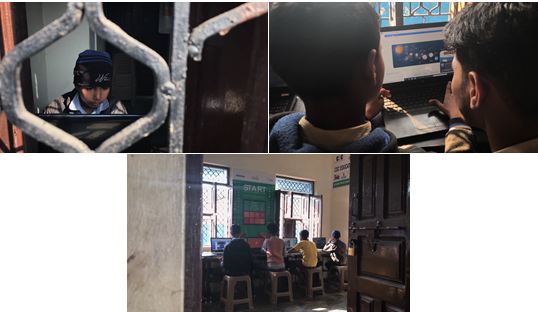 The eight MakerSpace steps. Objective. Search Online. Read. Sit in Groups. Create!! Reflection Time. Feedback.
"First, we discuss about the items included in the kit," says Aizaz Ahmed. "Then we Google the items and learn more about them." After watching the videos, the students then proceed to group discussions, in which they debate how best they can create a solution for the topic at hand. During my visit, the class was committed to assemble together a fire alarm.
As Ahmed explained to me, the MakerSpace classes have been held at DEF's Smartpur center, located in Nuh. But the idea is that soon the project will expand to work directly with local schools, so that the students can benefit from a more comprehensive and immersive learning experience.

Practice time: Creating a fire alarm.
"In schools, they teach us to read and understand via books," he says, "but additional knowledge and practical applications are not taught." MakerSpace fills in that gap.
If there's one thing that I learned by watching how the students interacted with the STEAM kit, is that there's never such a thing as a dull class. After Ahmed instructed the children on how to go about creating the fire alarm, they were incentivized to assemble everything on their own. I was sitting on top of the cloth together with them, and can vividly remember the experience.
Hands were flying in all directions with parts and pieces that might come in handy. Wires, heat sensors, batteries… Students who weren't really sure on how to proceed were soon aided by their peers, completing each other's statements. The adventure reminded me of how important it is to share a collaborative learning experience with friends, as it's the best way students become able to contextualize learning in their own realities.
Students are incentivized to create on their own.
"The parents also feel happy and proud when kids go home and recreate the experiments," Ahmed told me, reiterating that the project is also beneficial to the entire village — one could see the proud look on his eyes. "I am very satisfied with the kids, the STEAM team, and especially with the project."
Among the rural unpaved streets of Tain, the learning opportunities provided by the MakerSpace project seem like unclaimed precious gems. With time and effort, all indicates that Sharafat and his gang of friends will be able to polish their skills and uplift their own village. After all, there's no one more well suited and enthusiastic.
"I have been coming here for three months," says Sharafat. "It feels good to be here."