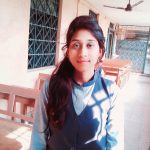 In Maharashtra, the Mentors visited Palghar, Thane and trained 20 mentees. The objective of the visit was to understand and acquaint themselves with the social realities of Mentees, meet their parents and most importantly to impart skills. This helped them understand how the visual narratives support in analysing the ground realities and why it is important to know. The workshop focused on teaching the mentees responsible usage of smartphones followed by a hands-on training.  As a gesture to strengthen bonds, a set of about 25 tree saplings were purchased from the local Forest Department by the Mentors.
In Madhya Pradesh, Dr. Snigdha motivated the girls to prepare a speech on their favourite topic from their respective syllabus and was asked to present the same over a video call. She had also encouraged them to create an FB group on education.
In Jharkhand, Mentor Ms. Kamna Hazrati motivated the girls to recognize their skills and asked them to prepare some creative stuff based on the photographs by the Mentors, from the available resources at their village.
Mentor Seema in Odisha explained the concept of MSME and how it works. She explained its concept of how it helps small businessmen to grow their ventures. She had also shared the number MSME present in the state with them.
In West Bengal, Mentor Sneha Banerjee is training the mentees on how to put impactful visual narratives on their Facebook page, the do's and don'ts of social media applications, online safety and security.
Swastika Jajoo, a mentor in Maharashtra advised her mentees on how to stay stress-free during exams and listed the importance of diagrams in answer sheets. She believes an answer with a diagram representation help in scoring better marks.